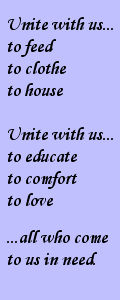 ---
"The True Meaning of Christmas" Coloring Contest

CUP is proud to sponsor its ninth annual The True Meaning of Christmas coloring contest to provide students an opportunity to illustrate what the true meaning of Christmas is to them. The contest is open to students in first through fifth grades.

There will be one overall contest winner and one winner in each grade level. The overall winner will receive four tickets to the Festival of Lights at the Cincinnati Zoo and Botanical Gardens and ten Christmas cards featuring their drawing. The winners in each grade level will receive ten Christmas cards featuring their drawing.

Entries must be postmarked by December 8, 2017 and winners will be notified by December 18. Check the following for complete details:
---
---
---
About Us
Catholics United for the Poor (CUP) is a coalition of six non-profit agencies with a history of direct services to the poor.
Member Agencies
Bethany House Services
Housing, Education and Assistance for Homeless Families
Mary Magdalen House
Showers, Toilets, Clean Clothes and Telephones
Our Daily Bread
Hot Meals, Hospitality, Emergency Services, and After-School Kids Club
Over-The-Rhine & Walnut Hills Kitchens & Pantry
Groceries, Meals, Care and Hospitality
Society of St. Vincent de Paul
Rent, Food, Clothing, Home Visits, Pharmacy, Wellness and Vision Programs
Tender Mercies
Permanent Housing, Security, Community and Supportive Services for homeless adults with mental illness.